If you haven't been to Montreal recently, the Golden Square Cocktail at Montreal's new Four Seasons Hotel (VIDEO ABOVE) is just one reason to book a trip or a pre or post cruise stay in the second-largest French-speaking city in the world.
Montreal still has its European lifestyle, credentials as the fashion capital of Canada, and a UNESCO City of Design.
It's still the birthplace of Cirque du Soleil, and a global city of festivals ranging from the Canadian Grand Prix race to the Guinness World Record-holding Montreal International Jazz Festival. And its culinary scene has been celebrating 'local' long before it became a trend.
Celebrating its 375th birthday, Montreal also developed new, high concept attractions, including an observation wheel at the water's edge, a high-tech sound and light walking tour of Old Montreal, and a breathtaking sound and light music in the heavenly Notre Dame basilica.
A re-imagined Montreal is breathing magic into Old Montreal, the Old Port, and its signature neighborhood, the Golden Square Mile.
Montreal was once home to ¾ of Canada's wealth, and the Golden Square Mile is where that wealth and prestige lived. This historic neighborhood has been compared to New York's 5th avenue. Streets beginning at the base Mount Royal were lined with the mansions of Canada's elite: Scottish-immigrant shipping and railroad tycoons, bank founders and nation builders.
Remaining mansions have been incorporated into prestigious McGill University, become museums, cultural institutions, galleries, boutiques… and luxury hotels like the new Four Seasons.
Here are our favorite luxury hotels in Montreal's Golden Square Mile.
Four Seasons Hotel Montreal
Montreal's Four Seasons Hotel is uniquely at home in its neighborhood, Montreal's 'Golden Square Mile'.
In the heart of the historic Golden Square Mile, it's a high concept, modern building. The Four Seasons shares a dramatic façade with Golden Square Mile landmark, the luxury department store Ogilvy. There are interior entrances for hotel guests and shoppers can enter the hotel directly onto the fourth, lifestyles floor, where the New York-based celebrity chef Marcus has a namesake restaurant, and already one of the hottest lounges in town.
Inspired by the neighborhood and also very on-trend luxury design, gold and a blush – yes, the color often called 'Millennial Pink' are a recipe for instant instagram fame. Check out the video for the other ways the Four Seasons Montreal Hotel makes your stay 'golden'.
The World's First Ritz-Carlton
The 'Grand Dame' of Montreal's luxury hotel scene is the Ritz-Carlton. Built in grand style in the early 1900's when the Golden Square Mile was at its height, it was the first hotel to bear what is now a legendary name.
Over its hundred-plus years, the Ritz-Carlton Montreal has welcomed the powerful and famous: Queen Elizabeth, Winston Churchill, Sofia Lauren, who made homemade pasta in her suite, the Rolling Stones who were turned away from the dining room and returned wearing jackets, Elizabeth Taylor, who married Richard Burton for the second time in the hotel's epic, lavender-and-gold Oval Room. It opens out onto the most famous terrace in the city and an urban courtyard garden with its famous duck pond.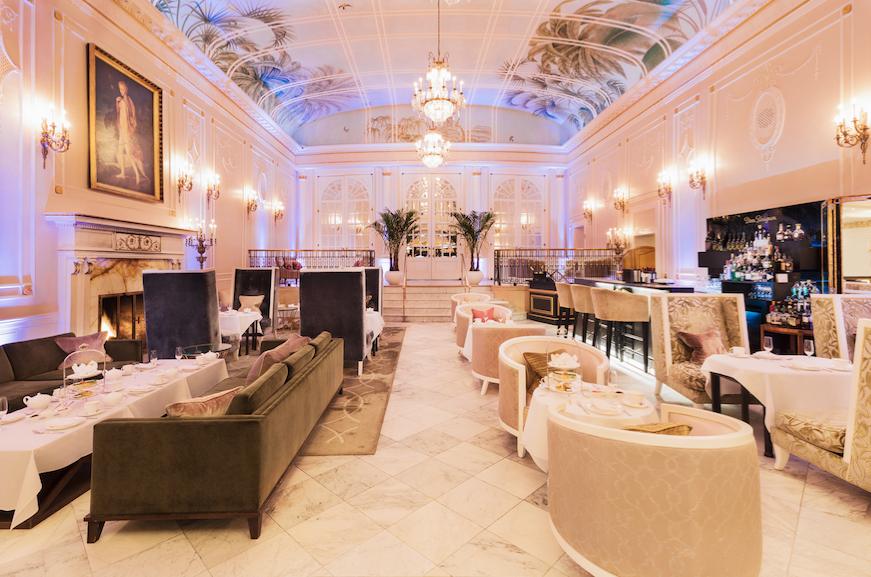 Recent additions to the Ritz-Carlton include a namesake restaurant by Michelin-starred Chef Daniel Boulud, and the world's only Dom Perignon champagne bar that shares the legendary Palm Court with the hotel's epic afternoon tea.
Le Mount Stephen Hotel
But one of Montreal's newest boutique hotels has an equally historic pedigree. Le Mount Stephen hotel occupies a National Historic Site; the former mansion of an immigrant who became the President of the Bank of Montreal, the first President of the Canadian Pacific Railway, and a founder of Canada's textile industry. George Stephen became Lord Mount Stephen, and his elegant, limestone mansion was considered the most opulent home in Canada, complete with elaborately carved exotic woods, onyx fireplaces and gold hinges that make today's visitors gasp as they walk through the door.
The historic property has undergone a luxe, eye-catching re-purposing that elevates the historic design. Its former main floor parlor and dining rooms have been transformed into one of Montreal's can't-miss bars, Bar George, with plush teal sofas, a life-size bronze pig acting as a lounge table top, with curling stones and other classic Quebec winter sports equipment decorating the restaurant. The hotel lobby and guest rooms are in an attached ultra-modern tower that affirms the city's design credentials.
Montreal's Golden Square Mile has attracted sole Canadian outposts of a number of luxury hotel brands. In two cases, it's a French connection.
Sofitel
Mid-century French luxury hotel brand Sofitel established itself in Montreal in a modern building erected where a Golden Square Mile mansion once stood at the foot of Montreal's vast, city-center green space, Mount Royal.
French 'art de vivre' is the essence of the hotel experience, and staff is trained to take initiative to personalize guest stays.
The hotel cultivates relationships with cultural institutions and events so it can offer exclusive, VIP experiences in Montreal to their guests. The acclaimed, creative French restaurant at street level is named Renoir after a painting by the French master loaned by a Sofitel executive to the Fine Art Museum down the street.
Climb the mid-century stairs to the mezzanine to look at the custom lobby carpet that's a tapestry of Montreal signature festivals and events.
Le Meridien Versailles
The sole Le Meridien in Canada stays true to the brand's mid-century roots as Air France's hotel brand and reflects its design and lifestyle priorities with art installations including an aerial map of the Golden Square Mile, and an art partner, the Canadian Center of Architecture, located in an historic mansion nearby. It has a bicycle partnership so you can sign out bicycles and even pack a picnic lunch to explore the city.
It also continues the Le Meridien tradition of serving a locally-inspired, signature éclair; Montreal's has maple and Montreal's famous steak spice.
Loews Hotel Vogue
The only Loews-branded property in Canada is right across the street from the new Four Seasons.
When Loews took over the existing Hotel Vogue, it doubled down on the fashion magazine heritage, incorporating framed layouts in guest rooms. Grand entrances into its conference rooms mimic the blue arched doors of iconic couture house Chanel's atelier in Paris.
The new hotel restaurant is a French bistro complete with hand-laid mosaic tile floors and French Belle Epoque design.
Start your Trip!
Copyright BestTrip.TV/Influence Entertainment Group Inc or Rights Holder. All rights reserved. You are welcome to share this material from this page, but it may not be published, broadcast, rewritten or redistributed.
Sign Up For Our Newsletter
Don't miss any Travel News or Limited Time Offers!